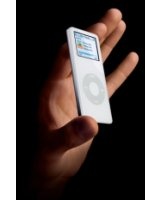 Attempting to merge fashion with the latest in tech gadgets, jeans giant
Levi's
has introduced iPod-compatible jeans. The
RedWire DLX
jeans are not due out until Autumn this year though. It has a joystick remote control built into the watch pocket allowing owners to navigate through their iPod's contents and change the volume without having the take the device out of their pockets. A separate pocket will hold the iPod and also conceal the bulge from it.
It also features a built in retractable headphone unit to prevent tangled wires. The company also said a red conductive ribbon will keep wearers connected while allowing them to remove the iPod from their pockets to view the screen.
"The Levi's RedWire DLX jean is the latest extension of the Levi's brand leadership position, by merging fashion and technology that provides consumers with the most innovative way to enhance their portable digital music lifestyle."
Robert Hanson
, Levi's US brand president, said in a statement.
More than 100 countries sell the ultra-popular brand jeans. This is an example of why the iPod enjoys so much success; it is not just a device to play music in some people's minds, it is a fashion accessory. This does not make iPods the
"best"
players by any means, but it keeps them on top as the most popular.
Source:
IOL