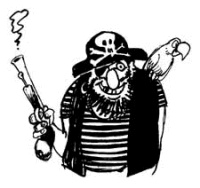 For years the streets of San Salvador have been full of street vendors selling bootleg copies of CDs and DVDs for very low prices. Now, new tougher copyright laws have come into place since 1st January this year which include a mandatory jail sentence for selling pirated software movies or music. The new copyright laws were part of El Salvador's implementation of
CAFTA
. CAFTA provisions on intellectual property increased penalties for piracy.
Salvador Canjura
described on his blog how the average price of a pirated
DVD
went down from $3 to just $1 in the last week of 2005. The interesting thing about these cheaper counterfeit goods, is they contain political messages from the street pirates urging their customers to vote against the political parties who voted for the new copyright laws.
Additionally, many of the vendors took to the streets demonstrating against the laws. They are demanding that their government
"take steps to address the destruction of their livelihoods."
The street protests included blocking traffic and burning tires. You can see some pictures of the protests
here
.
Source:
Tim's El Salvador Blog