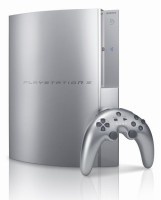 After the
Consumer Electronics Show
, many believed that the launch of the
PlayStation 3
console from
Sony
would suffer similar shortages and other problems experienced by
Microsoft
during the launch of the
Xbox 360
console. An analyst at
Pacific Crest Securities
estimated earlier this week that about 1 million PS3 consoles would be available for a November launch. However, that figure is nothing in comparison to the amount of consoles that
Pioneer
executive
Andy Parson
thinks will be available.
While speaking with
The Digital Bits
, Parsons discussed the
Blu-Ray
format and how the PS3 would mark the success of the format. He then gave his comments on the upcoming PS3 launch.
"The PS3 is launching right at the forefront of Blu-ray disc,"
Parsons said.
"If Sony ships the kind of numbers we expect them to this year, that will provide a very rapid growth of players out there hungry for titles. We've been hearing between 4 (million) and 7 million (PS3s) could ship."
Microsoft experienced shortages during the Xbox 360 launch in the US and Europe. The company originally aimed to ship 3 million units within the first 90 days but later adjusted its figures to 4.5 million to 5.5 million by June. Despite Sony's previous aim for a Spring 2006 launch, industry analysts believe the console wont reach North America until later this year, with a possible mid-year launch in Japan.
Source:
News.com