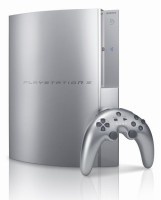 Sony
will announce new information about its next-generation console
PlayStation 3
. These details may include pricing information, launch dates and software line-ups of the upcoming console. The announcement will be presented in
Tokyo
tomorrow March 15th at a Sony conference.
The conference that has been rumored to include PS3 revelations for the past week, will open its doors 6am GMT and is open to media and Sony's publishing partners. The president of Sony Computer Entertainment,
Ken Kutaragi
is set to address the conference. This is possibly the last chance for the company to make announcements regarding PS3 details before their year-end on March 31st.
Obviously the discussion about PS3 release problems makes it a bit harder to believe that the exact launch dates could be unveiled tomorrow, but after Sony claimed to be on schedule on the release of the console, they probably can't wait all the way to
E3
. The fact that the screenshots from a PS3 version of RPG
Untold Legends
were accidently released days before the scheduled Wednesday morning indicates that the Tokyo conference will have some kind of software presentation planned.
The analysts have commonly estimated a launch in late summer of early autumn in Japan, near Christmas in United States and first quarter of 2007 in Europe. Tomorrow we'll see what is the opinion of Sony.
Source:
Gamesindustry.biz
For more gaming news please visit Blasteroids.com