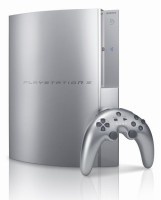 After numerous estimates the expected price of
PlayStation
has been addressed. Vice president of
Sony Computer Entertainment Europe
revels in a French radio program Générations Europe 1 that the price for PS3 will be around 500 euros.
The vide president of SCEE
Georges Fornay
agrees with the rather expensive console, but reminds that PS3 carries high technology worth much more, referring mostly to the
Blu-ray
drive.
"It will be expensive if we only look at the game aspect of the machine, but it will be very cheap if we account for the set of technologies that it will integrate."
Fornay also said that Sony is sticking with the plan of releasing PS3 simultaneously in Asia, Europe and North America in November.
The calculations of PS3 price in your own currency will be anything but accurate at this time as we know that console prices vary a lot in different regions. However 500 euros would be about $615 or £350. Wait until price tag appears on stores this Autumn to see the exact price.
Source:
Gamespot
For more gaming news please visit Blasteroids.com.