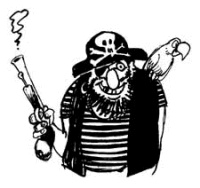 Two men have received jail terms of between 6 to 15 months for distributing pirated copies of music on the Internet through their release groups.
George Hayes
, 31, a member of the release group
"Chromance,"
or "CHR," received a 15 month jail sentence after pleading guilty to criminal copyright infringement. He was sentenced by US District Judge
Leonie Brinkema
in Alexandria, Virginia. Separately,
Aaron Jones
, 30, was sentenced to six months in prison and six months' home confinement.
Along with another man,
Derek Borchardt
, 22, Jones pleaded guilty to one felony count of conspiracy to commit copyright infringement during his involvement with a release group known as
"Apocalypse Crew,"
or
"APC."
Borchardt was sentenced to six months' home confinement for his involvement with the group. Another alleged APC member,
Matthew Howard
, 24, is set to be sentenced next week.
These are the first federal criminal sentences for members of pre-release music groups that stemmed from the FBI's
Operation FastLink
, which targeted professional piracy groups on the Internet. The FBI had help from the
Recording Industry Association of America (RIAA)
in its investigation.
Source:
Yahoo