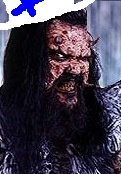 Congratulations to the Monstrous winners of the
Eurovision Song Contest 2006
.
LORDI
! Lordi won the contest with the highest score ever, 292 points.
And Finland goes ballistic! Before this year Finland had not once made it even to the top five in the contest. The nation has rejoiced if we didn't finish last.
Huge congratulations from the insane Finnish staff, and HUGE thanks to everyone who voted! Tomorrow pigs will fly, I'm sure.
You can hear (and see) the entire song at
Youtube.com
.
To celebrate this joyous occasion AfterDawn.com membership is free today! Well it is free every day, but even more free today! You can join at
http://login.afterdawn.com/
.
HARD ROCK HALLELUJAH!
The Lordi web site at Lorgi.org is overwhelmed by traffic at the time of writing. The link above might not work.
--AfterDawn.com