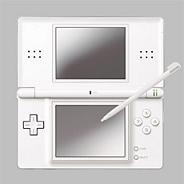 Nintendo
has announced the launch of
DS Lite
in Europe, the new and improved version of its hugely successful DS. The portable will arrive in Europe on June 23 and will be available in both black and white. The Lite version will retail for around £99.99 (approx. $187). Nintendo DS has sold over 4 million units in Europe and over 16 million units worldwide, and the DS Lite is expected to continue the success.
DS Lite is a lighter and brighter version of Nintendo DS. The handheld has dropped weight nearly 60g and is much slimmer than the original. DS Lite isn't just smaller, it has been improved by relocated microphone, adjustable screen brightness and more comfortable stylus. DS Lite features the same dual screens with advanced touch screen technology, voice recognition and
Wi-Fi
as does the original DS.
Nintendo DS Lite will also get several new releases during the summer,
Dr Kawashima's Brain Traning: How Old Is Your Brain?
and
New Super Mario Bros.
will launch in June and
Electroplankton
and
Big Brain Academy
in July.
Source:
Press release
For more gaming news, please visit Blasteroids.com.