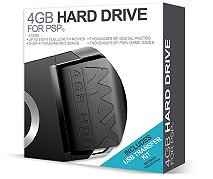 Datel
diversified the selection of
PSP
videogame enhancement products. The company announced 4GB Hard Drive,
MAX Media Dock
and a
Media Solution Pack
for the
Sony
PSP
, all of which include the
MAX Media Manager
allowing file converting into PSP format, savegame download and managing file library.
Compact Flash
cards can be attached to the Portable using the Media Dock, which supports up to 4GB CF cards and even micro hard drives, while the Media Solution Pack allows file transfer between the PSP and
PC
. The Dock is sold in three versions, without a CF card, with 1GB and with 2GB CF card, and the Media Solution Pack in two versions, with either 1GB or 2GB memory card. All these products should hit the shop shelves this week.
Here are the retail prices for the Datel products:

Media Solution Pack
1GB Version: £44.99 UK, $69.99 USA
2GB Version: £84.99 UK, $129.99 USA

MAX Media Dock
Base Unit, no CF card supplied: £29.99 UK, $39.99 USA
With 1GB Compact Flash card: £54.99 UK, $79.99 USA
With 2GB Compact Flash card: £84.99 UK, $119.99 USA

4GB Hard Drive for PSP Solus Pack
£129 UK and $149 USA.

Source: Press release
For more gaming related news, please visit Blasteroids.com