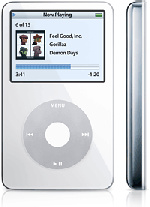 Major automakers are racing to add better support for
MP3
players in vehicles to meet consumer demands and to increase safety.
General Motors
,
Ford Motor
and
Mazda Motor
have partnered with
Apple Computer Inc.
to integrate
iPods
into the their cars' audio systems. Owners of the cars won't need add-ons like
iTrip
or chargers that plug into cigarette lighters.
The aim of Apple and the three companies is to incorporate
"seamless integration"
into new 2007 models to allow iPods to be controlled within cars' audio systems and charged whenever the ignition is running. An internal study by Ford showed that the demand for such integration is rising fast and the manufacturer expects that sales of digital audio players in 2009 will be more than twice that of 2005.
The integration plans vary among the manufacturers. Ford will add audio input jacks that are iPod compatible to the majority of 2007 Ford, Lincoln and Mercury models. For an extra fee, the company will sell a system called
TripTunes Advanced
that will allow the iPod to be stored and charged inside the glove compartment. The driver can then use the iPod through radio controls or controls on the steering wheel.
General Motors has developed a device called the
Personal Audio Link
. The gadget allows synchronizing of iPods and the cars'
XM Satellite Radio band
so the XM interface can be used for controls (but a subscription to XM Satellite Radio will not be required for the device to work). The 2006 and 2007
Chevrolet HHR
sport utility vehicles will be the first to get the Personal Audio Link.
Gradually GM will incorporate the device into the 56 of its new car and truck models sold in the U.S. The opt-in feature will retail for about $160 + installation fee. Mazda has not shown any specific details about the technology it will use for MP3 player integration.
DaimlerChrysler
's
Jeep
,
Volkswagen
,
BMW
and its
Mini
, and
Honda Motor
are examples of other car manufacturers who have already added iPod integration to some of their models.
iPods and other MP3 players have been blamed for several accidents caused by drivers' use of the devices while on the road.
Source:
News.com