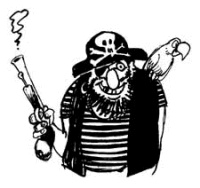 A man has been handed a seven year prison sentence for selling pirated copies of popular software titles at huge discounts on his website,
iBackups.net
.
Nathan Peterson
, 27, of Los Angeles sold products from major software companies like
Microsoft
and
Adobe
. The site began selling the illegitimate goods back in 2003 and wasn't shut down by the FBI until February 2005.
U.S. District Court Judge
T.S. Ellis III
handed down the sentence and also ordered Peterson to pay back $5.4 million and to forfeit the proceeds from the scam, which include houses, cars and a boat. Peterson had pleaded guilty to two counts of copyright infringement in December last year.
Justice Department and industry officials called the case one of the largest involving Internet software piracy ever prosecuted. Ellis also handed down a 6 year sentence last month to a Florida man for selling pirates software through his
BuysUSA.com
website.
Source:
Wired