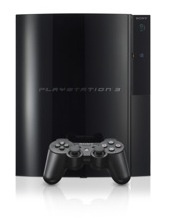 Sony
has announced that it will lower the price of
PlayStation 3
to diminish the price gap between PS3 and
Xbox 360
. The price cut is aimed for the basic version of the console with 20GB hard drive. Sony Computer Entertainment President Ken Kutaragi said at the Tokyo Game Show that the customers had been complaining about too expensive console, and they saw it necessary to cut the price.
After the price cut, basic PS3 model will cost 47,600 yen ($410), while it was originally planned for 59,800 yen ($515). Announced just a few days after
Microsoft
revealed its plans to release
HD DVD
player for Xbox 360 to match the PS3
Blu-ray
technology, Sony seems to be competing against Xbox 360 also in price tags. The costs are pretty much the same in Japan, Xbox 360 with HD DVD player will cost around 49,600 yen ($427), making a mere $17 difference to PS3. This might give Sony a big boost and equalize with the problems with component manufacturing, pricing and delays.
PlayStation 3 will launch November 11 in Japan, November 19 in the United States, and as reported earlier
European launch
was delayed to March 2007.
Source:
washingtonpost.com