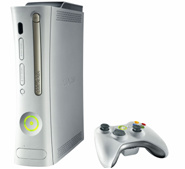 Despite the fact that gamers in Japan have yet to take to its
Xbox 360
console,
Microsoft
remains focused on breaking into the Japanese market - the second largest gaming market in the world behind North America.
Xbox chief
Peter Moore
is fully aware that cracking the lucrative Japanese market is decisive to the console's overall sucess.
"We didn't get the right content and we admit that we didn't do a great job here,"
said Mr Moore, talking to
BBC News
.
"There is probably no more challenging a market for us than the Japanese market."
Microsoft has struggled so far to make an impact on a Japanese market in which gamers are fiercely loyal to home grown brands and games.
Sony
, for example, has shifted more 23 million of its
PlayStation 2
consoles in its native country - accounting for nearly a quarter of overall worldwide sales, whereas Microsoft has only managed to sell a mere 1.8 million units of its original Xbox console throughout the whole of Asia, including Japan.
Microsoft will be launching a new wave of Xbox 360 games, including
'Lost Odyssey'
and
'Blue Dragon'
, designed by
Hironobu Sakaguchi
- the man who pioneered the
Final Fantasy
series. The aim of releasing such titles is to give the 360's catalogue a more "Japanese feel", in order to woo Japanese gamers.
"We're doing a lot to feel more Japanese, less American and less like an imported product,"
said Mr Moore.
Meanwhile, Sony remains confident that its upcoming
Playstation 3
console will follow the lead of its predecessor and be a hit in Japan.
"I can't speak for every Japanese consumer, but I do feel that what we have showed at the Tokyo Game Show has shocked and impressed them,"
said
Phil Harrison
, Sony's President of worldwide studios.
"I feel that the Japanese market is very loyal to Sony and we are very loyal to them."
Source:
BBC