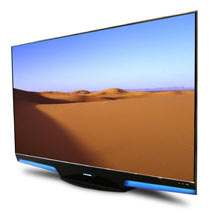 Australian firm
Arasor International
and its US partner
Novalux
have unveiled what they see as the next revolution in visual technology - the world's first laser television which is poised to be half the price, twice as good, and consume a fraction of the electricity of conventional plasma and LCD TVs.
Manufacturing firm Arasor produces a special chip, the unique optoelectronic chip which is central to the laser projection device being developed by Novalux.
And according to the
Herald Sun
, when displayed beside a conventional 50 inch plasma TV, the
Mitsubishi
-manufactured prototype does appear brighter and clearer than its "older" rival.
Worldwide retail of the new TV's - which will launch under well-known brands such as
Samsung
and Mitsubishi - is scheduled for the close of '07, with prices expected to be below $1,000 U.S.
Novalux chief exec.
Jean-Michel Pelaprat
boldly predicted that while LCD TVs would come to dominate the market below 40 inches, an end is in sight for the plasma televison.
"If you look at any screen today, the colour content is roughly about 30-35 per cent of what the eye can see,"
he said.
"But for the very first time with a laser TV we'll be able to see 90 per cent of what the eye can see.



"All of a sudden what you see is a lifelike image on display. Combine that with energy efficiency, price advantage and the fact that the laser TVs will be half the weight and depth of plasma TVS, and,"
Mr Pelaprat says
"plasma is now something of the past."
Source:
Herald Sun
CNet Asia