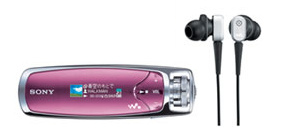 As
Sony Corp.
today announced that it will roll out five new flash-memory-based digital music players under its
Walkman
brand, it also added that it is developing a video-capable Walkman which it hopes will provide decent competition to
Apple
's ever-dominant
iPod
device - which currently holds more than half the global digital media player market.
"We are developing a product that handles images, but I cannot make any comment on specific plans,"
said Sony Senior Vice President
Hiroshi Yoshioka
.
Five new Walkman models will be released by the close of the year, offering capacities of up to 4GB. The players have a unique perfume-bottle design, and the high-end model will be priced at 29,000 yen ($240) in Japan.
Even though it hopes to challenge Apple at the summit of the digital audio player market, Sony acknowledges it has a long way to go to get there.
"Sony has a lot of strengths that Apple doesn't have,"
said Yoshioka, speaking at a press conference.
"This is a device that takes advantage of them."
He also added that Sony aims to double Walkman's share in the global portable digital music player market from the current 20%.
The new Walkman lineup includes the ability to transfer tunes directly from a CD player, as well as an integrated noise-cancellation feature. It is also expected that the devices will allow users to listen to about three hours of music on a three minute charge, and up to 50 hours on a two hour charge.
Sources:
-Betanews
-CDRinfo