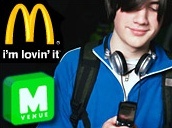 Fast-food chain
McDonald's
joined the growing digital content revolution on Wednesday as it began beta testing its digital media content service,
m-Venue
, in the U.S.
Whilst tucking into their Big Macs, customers will be able to browse and download their favourite tracks from several record labels, including
Sony BMG
and
Universal Music Group
via a Wi-Fi connection. The first restaurant to offer this service is located in Schaumburg, Illinois.
The resturant is equipt with wireless Internet, and has added widescreen displays to help promote the service and its content, whilst also allowing users to send text messages to be displayed on the screen. According to McDonald's, the introduction of the service has already seen food sales increase by 17 percent.
Source:
Betanews