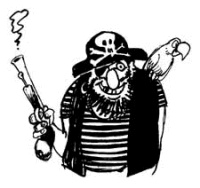 On May 25 back in 2005, the
Federal Bureau of Investigation (FBI)
along with the
US Immigration and Customs Enforcement (ICE)
halted what was then the largest US based BitTorrent tracker -
EliteTorrents.com
- in an operation known as
"D-Elite."
Now, in the first criminal conviction related to BitTorrent network fileswapping, 23-year-old Administrator
Grant T. Stanley
will spend the next 5 months in prison followed by an additional 5 months of home detention after pleading to guilty to conspiracy to commit copyright infringement and copyright infringement charges under the
Family Entertainment Copyright Act
. He was also fined $3,000 for his involvement in a BitTorrent node.
At its peak, the EliteTorrents service had more than 133,000 members and was estimated to have distributed some 2 million movie files in its lifetime, according to a government statement.
EliteTorrents' other administrator,
Scott McCausland
, pleaded guilty in September to
"conspiracy to commit copyright infringement"
and
"criminal copyright infringement"
and will be sentenced next month.
"This is the first criminal enforcement action against copyright infringement on a P2P network using BitTorrent technology,"
said United States Attorney
John Brownlee
.
"We hope this case sends the message that cyberspace will not provide a shield of anonymity for those who choose to break our copyright laws."
Source:
Betanews