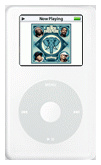 Currently, digital music tycoon
Apple
is working out the details for a deal with six major airline companies to allow it's very own
iPod
on major flights.
Now anyone who's taken to the air knows the familiar mantra, "Please turn off all portable electronic devices as they may interfere with flight operations", but that may change. Companies such as
Continental
,
Delta
,
United
,
Air France
,
Air Emirates
, and
KLM
have all agreed to begin installing iPod ports into the seats for passengers to plug into. Additionally, it is said that they are working on a way to stream video media from your iPod directly into the screens situated on the seat backs of the seat in front of you. I, personally cant wait to see reports on the first time someone loads up hardcore porn for all to see.
No details have been released yet as to which class of seating will receive the blessing from Apple, but one can guess where they'll start first. Installations of said ports are scheduled to begin by the middle of next year. Apple's partner in this venture is none other than
Matsushita
, the corporate headstone behind brands like
Panasonic
.
Source:
The Register