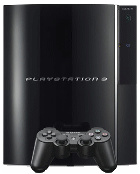 It appears that the all mighty
Sony
is yet again hit with pains associated with their hardware launch. For the many people far and wide that can remember back in the days of the
PS2
launch, where as little as a few months after purchasing the vaulted unit, were treated with the infamous "Disc Read Error" (myself included... twice); it seems that launch bugs have taken another bite.
Although not on such a grand scale of incapacitation of the disc read error, the new
PS3
appears to be suffering from a software glitch that is not allowing it to live up to one of the claims made by Sony during it's many early showings. 100% backwards compatibility. It seems that due to this glitch, almost 200 individual games including the likes of
Gran Turismo
and
Final Fantasy
suffer from no audio or graphic glitches when loaded in a PS3. Lists can be found on the Internet outlining at least 192 confirmed games that do not work for the new unit. Although Sony has refused to admit to an exact number, they did reply that they will be issuing an update patch in the very near future to fix this problem.
Sony claims the patch will make its system backwards compatible as it once claimed, but it makes you wonder what happened to the research and development groups during OS testing.
Source:
BBC