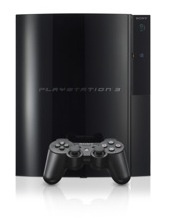 Sony
officially announced what most of us considered obvious, the first wave of
PS3
was sold out. No exact figure has been given, but some sources estimate not more than 200,000 units. The
"small"
number of PS3 launch units was however assisted by company's flag-bearing handheld and current gen console.
The sold-out PS3 had obviously more demand than supply, and the 15,000 PS3 units sold on eBay for an average price of $1,200 speaks for itself. Luckily for Sony, they have a pretty strong lineup with
PS2
and
PSP
, the first-mentioned increased sales more than 100 percent and the latter almost tripled the sales.
The second patch for PS3 is out, the patch updates PS3 firmware to v1.11, but no details have been shared. Some speculate that the patch affects Music settings, others that it adds an icon to Account Management, yet no clarifying information. You can download the patch via PS3 System Update feature. Sony also set a limit of 500MB for the downloadable PS3 games, according to Sony Computer Entertainment Santa Monica director John Hight this was done strictly
"to keep download times reasonable."
Sources:
GameSpot(1/2/3)