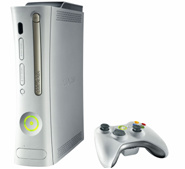 Microsoft Corp.
has further strengthened its content offerings through the
Xbox Live Video Marketplace
by signing a deal with
Lionsgate
. The movie studio which offers titles such as Blair Witch Project, Crank, Saw III and Hard Candy will offer content in high definition through the service. Existing partners such as
MTV Networks
,
Paramount Pictures
and
Warner Bros.
have all benefited greatly from the service since launch.
"This partnership is great for Lionsgate. The Xbox gamer is the same moviegoer who wants to watch Saw III or Crank,"
commented
Jon Ferro
, executive vice president for Lionsgate.
"That is why we are so thrilled to bring Lionsgate films to Xbox Live Video Marketplace. Bringing our content to this audience makes perfect sense and reflects our commitment to remain at the cutting edge of content distribution to new media platforms,"
One of the most appealing benefits from the Xbox Live service is it delivers content through the Internet, but unlike other services, the downloads are ready for display on any TV set immediately with no preparation or
"in between"
device necessary.
"Bringing our content to the coveted gaming audience on the Xbox 360 has been a huge success and has exceeded our expectations,"
said
Andrew Mellet
, VP of video on demand for Warner Bros.
"In fact, Xbox 360 has become one of the top distributors of our content direct to consumers' TV sets over the internet,"
he added.
Source:
GamesIndustry.biz