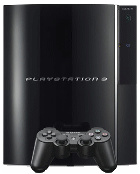 The €599 price for the 60GB version of the
PS3
console in Europe does not apply to both the UK and Ireland. In the UK, retailer sources have confirmed that the 60GB version of the console (20GB version is not expected to be available at launch) will cost about £425 (about €647 / US$838). Sony UK boss
Ray Maguire
previously stated that the UK price was a
"bargain"
.
A retail source suggested to
GamesIndustry.biz
that the higher price point has not been driven by Sony at all, but by the major retailers. Not too far away, in Ireland, the price is also higher than in the rest of Europe. The 60GB version of the console will cost Irish gamers €629.99, a difference that Sony blames on VAT rates in the country.
Sony is expected to confirm the UK price along with the speculated March 23rd European launch date in an official announcement next week.
Source:
GamesIndustry.biz