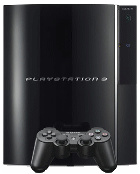 Sony
has confirmed that the
PlayStation 3 (PS3)
console will finally launch in Europe on the previously speculated March 23rd date. Only the 60GB version of the console will be available at launch while the 20GB version will become available later on. The console went on sale in both North America and Japan in the fourth quarter of 2006. Production problems mostly related to the included
Blu-ray
technology delayed the console's launch in Europe at the time.
The PS3 will enter the next generation console war in Europe behind the competition,
Microsoft
and
Nintendo
. The
Xbox 360
console has sold over 10 million units since its launch in late 2005, and the
Wii
console had a strong launch in Europe, selling more than 700,000 units. The 60GB version of the PS3 will cost €599 for most of the territory.
Europe had been picked as the territory to delay launching because Sony believes it is the most complex market for distribution.
"Sony felt it was better to delay in one market rather than risk failure in three markets and ending up disappointing everybody,"
Phil Harrison
, head of worldwide studios at Sony Computer Entertainment Europe.
Source:
BBC News