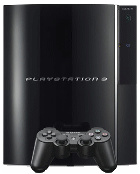 When the
PlayStation 3 (PS3)
console launches in Europe on March 23rd, the UK will have about 22% of the available stock, or about 220,000 units. All the units available will be the 60GB model, priced at £425 in the UK, with the cheaper 20GB model coming later on. The console is expected to sell out in the UK fast and at least
one retailer is already using the PS3 in a bundle to eat from its demand
.
"My overall number is a bit lower than it would be if I had a less well-established product. So we're round about the 22 per cent mark which, if you divided that into the million would give you 220,000 units."
Sony Computer Entertainment
's UK managing director,
Ray Maguire
said.
The high price of the PS3 in the UK has already received a negative response from gamers. £425 is roughly US$838, while the same PS3 model sells in the United States for $599 (£304) and in Japan for ¥59,980 (£253). Ireland also has a higher price for the console, at about €629.99, which about US$816.
Source:
Pocket-Lint