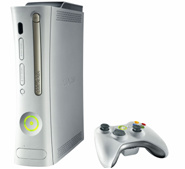 A TV show aired by the
British Broadcasting Corporation (BBC)
, called
Watchdog
, has investigated a number of complaints consumers have sent about
Microsoft
's
Xbox 360
console, particularly problems that arose shortly after the console came out of its warranty period. The show's presenters said they received 248 complaints from consumers.
The show highlighted two incidents, in which two different owners of an Xbox 360 console experienced the dreaded
"ring of death"
right after the console's warranty was up. Each owner had to pay £80 ($156) to get the fault fixed. Both thought this was highly unreasonable as both consoles were just about a year old.
"Most people who have an Xbox 360 have an outstanding experience and there's no common fault. Each incident is unique, and looked at on a case by case basis."
presenter Nicky Campbell read from a Microsoft statement. No Microsoft representative appeared on the show.
Source:
GameSpot