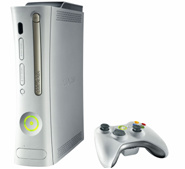 Microsoft Corp.
will show off the
Xbox 360
IPTV features at next month's
Connected Home
exhibition in London. The event will take place between March 5th and 7th.
Ed Graczyk
, Microsoft's Worldwide director of marketing, will demonstrate the service during his keynote speech titled,
"The Future of Connected Entertainment"
.
"Separately the Xbox 360 and Microsoft TV IPTV Edition deliver unique and exciting entertainment experiences, but IPTV on Xbox 360 delivers a real value proposition for consumers, service providers and content and game developers alike,"
Graczyk said.
He added:
"By integrating these industry-leading solutions, we continue to drive innovation and enable new connected entertainment experiences for consumers."
The IPTV service is set to launch in Europe before the end of the year. Being part of the Xbox 360 brings some new feature possibilities, such as recording video while playing games and chatting over Xbox Live while watching TV.
Source:
GamesIndustry.biz