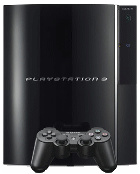 Since the added
Blu-ray Disc
components in the
PlayStation 3 (PS3)
console contributed greatly to both its high price (for a gaming console) and its delay in
PAL
territories, it is one of the PS3's most criticized features right now. Many consumers believe feel that Sony is forcing Blu-ray inclusion on the PS3 console to sneak the Blu-ray format ahead in the console war, but
Phil Harrison
denies this is the core reason for its inclusion.
"We needed to have Blu-ray disc from a game design point of view. The chipsets in PS3 chew through data at such a rate that in order to build variety and detail and quality into the games, we need more than nine gigabytes,"
Harrison said.
"Now, the fact that we could also adopt the preeminent next generation movie format into PS3 was an added bonus, not an added cost."
The original PlayStation made use of the
CD
optical disc format, followed by
DVD
in PlayStation 2 (which worked as a DVD player), and neither formats need to be introduced to anybody; a testament to their incredible success. The Blu-ray camp hopes that this trend will continue with the PlayStation 3 and push Blu-ray far ahead of its rival,
HD DVD
in the ongoing format war.
It is true that Blu-ray has caused more headaches for Sony than the last two formats it choose for gaming (excluding handheld), but does Sony regret it?
"No regrets whatsoever, and it's those kinds of decisions, painful though they were to live through in the last quarter of 2006, those are the decisions that are going to propel PlayStation 3 to be a platform that lasts for ten years, like we've seen with PS1 and PS2,"
Harrison said.
"And it will be, I believe, reflected on as the smartest decision we ever made."
Source:
DailyTech