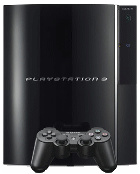 According to several rumors circulating online ahead of the
Game Developers' Conference
, Sony is set to make some significant announcements about the
PlayStation 3
console. GDC Director
Jamil Moledina
said that Sony will reveal news that will make PS3 owners very happy. Gaming blog
Kotaku
has reported that Sony may announce
"PlayStation Home"
features.
According to the report, PS3 could soon be getting its own version of
"Mii avatars"
and
"Xbox 360 achievements"
, with future PS3 titles featuring virtual rooms, where users
"will receive items with which to adorn the room that are specific to the game,"
as part of the achievements system. Social networking features are also rumored, including text chat, voice chat and video features.
Another source said that
Phil Harrison
will reveal a more refined PlayStation Store, Connect Store support for movie and music downloads and wallpaper options as part of a
firmware
update coming on March 8th. As for the name
"PlayStation Home"
, Sony recently registered the trademark for it. It is defined as
"electronic games services provided by means of the Internet,"
for the
"creation and development of virtual and interactive images and environments,"
and
"introduction and social networking services, namely introducing electronic game players to others."
Source:
DailyTech