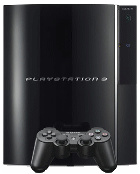 Today's European launch of
Sony
's eagerly-awaited
Playstation 3
console has not only seen flocks of ardent gamers queue into the small hours awaiting its release, but also several publicity stunts by rivals
Microsoft
in an attempt to upstage the event.
At the
Virgin Megastore
in London's Oxford Street, the software maker handed out chairs to those queuing which had a web address to an
Xbox 360
branded-site printed on them. The site "welcomes" Sony to the next generation, and ribs the Japanese entertainment company for being "late" in comparison to the 360's 2005 launch.
The launch was met with mixed feelings throughout Europe. Despite the fact several stores were kept open late especially, few French gamers took the opportunity to get their hands on one. Sony had moored a boat by the Eiffel Tower to act as a temporary base to make sales but gamers were crowded out by the media. Meanwhile, Microsoft drove its own boat covered in Xbox 360 logos in and around the area in an attempt to distract people's attentions away from the launch.
At an electronics store in Berlin, Germany, gamers who smashed their 360's off of a wall were rewarded with a free PS3.
Sony believes that the PS3's high-definition
Blu-Ray
DVD
player, online capabilities and gaming powered by the
Cell
processor will persuade gamers to fork out £425 (599 Euros) on the machine.
"High definition is very important to people,"
said
Ray Maguire
, head of Sony Computer Entertainment in the UK.
"A lot of people have bought flat panel TVs and they want content to go on it and PlayStation 3 is one of the few places they can get that kind of experience."
Source:
BBC