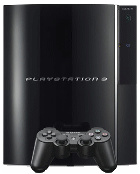 In a follow up to our
Folding@home story here
, the latest stats for the project show that over 30,000
PlayStation 3
users have signed up.
The statistics also show that almost 40,000 PlayStation 3 CPUs are linked to the project and over 30,000 of them have been actively performing calculations in the last two months.
The European launch has helped boost the stats which have jumped from 15,000 to the current stats in a little over 4 days.
If you would like to sign up for Folding@home you may choose to do so through the folding@home icon in the Xross Media Bar.
Source:
Gamesindustry.biz