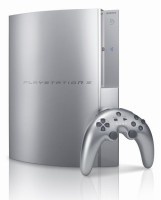 Sony
has filed a request with the FCC (Federal Communications Commission) asking for a class 2 permissive change that included details of some minor tweaking to the
PlayStation 3
s Bluetooth features. Amongst the models that were listed with the filing included the currently available 20GB and 60GB consoles but surprisingly, a new 80GB model as well.
Sony however, has dismissed any rumors that an 80 GB model is on its way. A Sony spokesperson stated,
"The 80GB we're not making any comment on, but we don't have any plans at the moment."
I do believe however, that with the launch of the
Xbox 360 Elite
it is only a matter of time until a PS3 with a larger HDD, possibly 120 GB to match that of the Elite, is available in stores.
Source:
Gamesindustry.biz