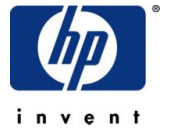 In a lawsuit filed in Texas today,
Hewlett-Packard
has sued
Acer
for allegedly infringing 5 HP patents.
HP believes that from the years 1997 to 2003, Acer infringed on patents that include power management, DVD editing, clock switching, processing capabilities, and several other technologies.
HP wants an injunction placed on Acer that would force them to stop selling some of their products in the US, as well as unspecified damages.

"HP believes Acer has been selling computer products that use HP's patented technologies without permission. HP respects the intellectual property rights of others and expects the same treatment in return,"
HP said in a statement.
An analyst believes that this lawsuit shows that HP can no longer ignore Acer, which has seen a high level of growth and acquired market share in the U.S, anymore.
"Acer has become a threat that leading PC vendors cannot afford to neglect. We understand why competitors would desire a halt to Acer's expansion in the U.S. market."
Source:
Dailytech