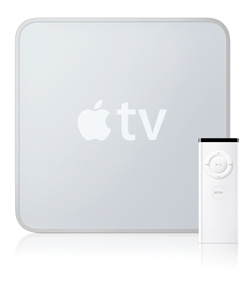 Just two weeks after the
Apple TV
began shipping, hackers have installed the
Mac OSX
onto the media box, turning it into the cheapest Mac ever sold.
"The breakthrough is done, OS X runs on Apple TV!"
wrote "Semthex," the anonymous hacker responsible for the mod, at his website.
"Now weve got (the) low-budget Mac we ever wanted."
The hack, although very difficult to perform for the casual user, has helped other hackers greatly.

"This hack seriously opens up the doors with what the Apple TV could be used for,"
said Tom Anthony, administrator of Apple TV Hacks, in an e-mail.
With the OS X installed, soon we should be able to see almost anything able to run on the TV, including
Windows Media Center Edition
or
Linux
.
The Apple TV has some powerful specs including a "Pentium M processor, as much RAM as Sony's PlayStation 3 and a faster graphics chip than a Nintendo Wii" and it was only a matter of time before hackers used that power to open up the TV to its full potential.
Apple so far has not made a statement openly about the hacks.
As of today, here are the hacks you can perform (and void your warranty with) on the Apple TV:

· Upgrade the hard drive

· Run Xvid movies.

· Attach a keyboard and mouse.

· Enable SSH.

· Install VNC remote desktop.

· Boot Apple TV from a USB drive.

· Turn it into a web server.

· Install OS X.

· Install the Asterisk open-source VOIP system.

You can learn how perform those hacks by following the source link below.
Source:
Wired