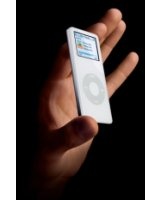 For the measily price of 49 Euros, you can get the
iPod Nano's
latest rival, a new group of MP4 players created by Computer Supermarket.
The new player, which is was created to look almost identical to the Nano has a 1.8-inch LCD, 4 GB of flash memmory, built-in FM radio, and more importantly, the ability to play all different sorts of audio and video codecs.
For those who want the same functionality of a Nano should look into these new MP4 players which were before only sold from places in Asia.
Source:
Pocket-lint.co.uk