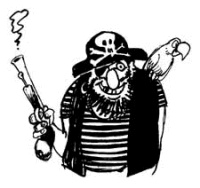 The
RIAA
has sent out a new round of pre-lawsuit letters to over 21 colleges and universities marking the third time this year that the group has sent out mass letters to colleges in hopes to stop the alleged p2p piracy that occurs daily on campus networks.
The letters the RIAA sends to colleges simply include an IP address and a date stamp. The college then needs to match that address to one of their students.
The RIAA does however, offer a discounted settlement price to the college students, a price somewhere lower than the $3000 USD that other alleged offenders are forced to pay to settle.
431 pre-lawsuit letters were dispatched to the following schools:
"Bates College (7 pre-litigation settlement letters), Brown University (12), Central Michigan University (24), Colby College (5), College of William & Mary (12), Cornell University (19), Fairfield University (15), Florida International University (16), Indiana University (28), Keene State University (19), Kent State University (19), Morehead State University (10), Ohio University (50), Oklahoma State University (16), University of Massachusetts – Amherst (32), University of Maryland System (25), University of Michigan – Ann Arbor (23), University of New Hampshire (17), University of New Mexico (16), University of Pennsylvania (17), University of Rochester (22), and Williams College (9)."
Source:
Slyck