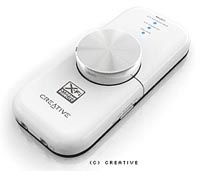 Creative
, although in competition with
Apple
in the MP3 player market, continues to cater to the
iPod
crowd with impressive accesories.
Their newest releases are four lines of docking accessories for the iPod. Three include speakers while the last is made to pair with home theater systems or televisions.
The "X-Fi Sound System i600" is a copy of Creative's Z600 for the Zen Vision:M. The "Playdock i500" and "TravelSound I" are also copies of existing docks, the Zen's Z500 and the TravelSound Zen V. All three have built in speakers.
The new "Xdock Wireless", which was first showcased at
CES
, will connect wirelessly to any X-Fi remote reciever, which can then be wired to a home theater system or speakers through line out, digital audio, s-video or composite.
Source:
Engadget