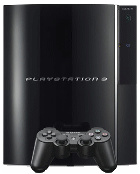 A spokesperson for
Sony
has confirmed that the company is considering production of a new model of the
PlayStation 3
that would include a larger HDD.
This latest comment again opens up the rumor mill that began last month when Sony filed an FCC application that includied references to an 80 GB model.
The spokesperson, Satoshi Fukuoka said the decision is
"in line with our strategy as we had planned to choose models based on consumer needs".

"[the company]is considering introducing the model with a bigger hard disk"
stated Fukuoka as well. He declined to comment further.
With the recent discontinuation of the 20 GB model in North America, it will be interesting to see what is in store for the PS3.
Source:
Gamesindustry.biz