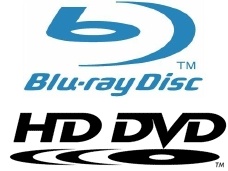 Reports have been coming in from many sources claiming that
Wal-Mart
is ordering 2 million high definition players produced by the Great Wall Corporation in China and developed by
TDK
in an effort to sell inexpenisve next generation players. The reports claim the players will be sold for under $300 USD however the type of next generation player is still up for debate.
A translation of the Chinese reports indicate that the players are "Blu-ray (or blue light) HD DVD players" which is confusing as both formats use blue or violet lasers. Until there is an English announcement we may not know which format the players are intended for.
Wal-Mart spokesperson Mellissa O'Brien would not comment on the apparent deal between the retailer and its Chinese manufacturing partners, but did offer to Home Media Magazine,
"[Most] of the shoppers asking about and purchasing either Blu-ray or HD DVD are already pretty savvy technically about both — they are the kind of consumer that absolutely wants the very best and latest in quality that's available. It's not quite yet a product the average shopper is attune too, but we anticipate that will change very soon as prices continue to come down."
If the new player is an
HD-DVD
player it will be $100 cheaper than the next closest standalone player, an entry level player by Toshiba. If it is a
Blu-Ray
player, the price will $300 cheaper than the next closest player,
Sony's PlayStation 3
.
The reports are interesting and we will keep you up to date on any updates including release date.
Source:
Dailytech