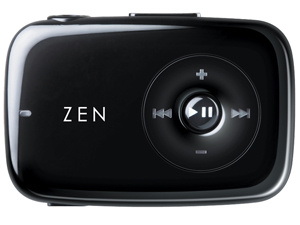 Creative
has announced that they will be releasing a rival to the
iPod Shuffle
, named the
ZEN Stone
. The tiny 1 GB flash-based player will cost $39.99 and can hold up to 250 songs and will compete against the $79.99 2nd gen Shuffles.
The ZEN Stone will be available on May 14th in black, blue, green, red, pink, and white.


"The Creative ZEN Stone, at just $39.99, opens up a huge new market for MP3 players,"
said Creative chairman and CEO Sim Wong Hoo.
"This is an incredible price for everyone to get a superior quality MP3 player capable of holding up to 250 songs. Whether it's your only player or a second player to take with you anywhere, the low price lets you think of MP3 players in a whole new way. You can loan it to a friend just like you would a CD or a mix tape and not have to worry about it, but you'll like it so much that you'll want another, so you always have one with you."
Along with the ZEN Stone, Creative will be releasing the companion
TravelSound Zen Stone
, which turns the MP3 player into a portable speaker system. The TravelSound operates on AAA batteries and has advertised 20 hour life.
Source:
DailyTech