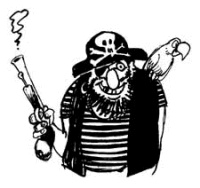 Symantec
, the makers of
Norton
products and other software announced on Wednesday that it was suing 8 different companies it accuses of illegally copying its products. The company is seeking $55 million USD in damages.
Symantec is just the latest company to resort to legal action as an effort to fight piracy. Industry reports tell us that piracy costs software makers billions of dollars in lost revenue every year.
For each of its cases, Symantec is asking for a jury trial and a range of $4 to 10 million USD in damages from each company it is accusing.
The businesses named are Acortech.com of California; m-Plus International Technology Inc. of Florida; Logical Plus Inc. of New York; SoftwareOutlets.com Inc. of Florida; Rowcal Distribution of California; Global Impact Inc. of Florida; and eDirect Software of Canada. Most of the sales were conducted online, Symantec said.
Symantec alleges the companies "engaged in trademark infringement, copyright infringement, fraud, unfair competition, trafficking in counterfeit labels and documentation, and false advertising".
The cases are also seeking permanent injunctions on future sales of the alleged pirated software.
Source:
Yahoo!