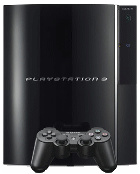 As reported earlier this week,
Sony
will be releasing an
80 GB PlayStation 3
to the Korean market next month. According to a report from the Korea Times, the main reason for the larger HDD is because the new PS3s will feature video-on-demand (VOD) functionality.
South Korea, known for a relatively advanced network infrastructure and high-bandwith Internet services would be able to take full advantage of a network-enabled PS3.
Sony Korea confirmed the news report by saying it was in talks with telecom operators.
"We are contacting some Korean firms in order to incorporate VOD applications into PlayStation 3 service line-up,''
Sony spokeswoman Park Seo-yun said.
Although Sony did not reveal which firms it was in talks with, Hanaro Telecom spoke up about its talks with the company.
"We are negotiating with Sony and the atmosphere is pretty good. We hope we will be able to reach an agreement in June,''
a Hanaro Telecom spokesman said.
"Should we strike a deal with Sony, PlayStation 3 users can watch all the HanaTV programs after downloading software, without having to buy a dedicated set-top box.''
Source:
Dailytech