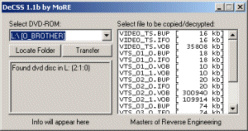 The closely followed court case in Finland that will ultimately decide whether DVD movies can be legally copied for personal use or not, is heading to the Finnish Appeals Court.
Last week, Helsinki District Court sent shockwaves through the media industry in Finland and across the EU by
ruling
that the
CSS
encryption mechanism found on virtually all commercial DVD-Video discs can be cracked legally. The ruling stated that CSS cannot be described as "efficient copy protection mechanism" due the widespread availability of tools that allow cracking it. Finnish legislation, which is based on
European Union Copyright Directive
, clearly states that cracking "efficient" copy protection mechanism is illegal.
Now, the prosecutor in the case has announced that she will bring it to the appeals court. This will mean that the case will be postponed by several months. If the appeals court decides not to alter district court's decision, the prosecutor can still ask the Supreme Court to overturn the original ruling.
Source: Tietokone (in Finnish)