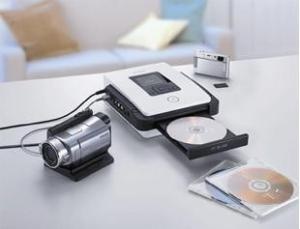 Last week,
Sony
unveiled the
VRD-MC5
, a self-contained DVD burner that will connect to a few Sony
AVCHD camcorders.
This will be the first burner in their new DVDirect line that will be able to support AVCHD. Until now, a conversion software was needed to convert videos to DVD for standalone playback.
Accroding to
Dailytech
, "The VRD-MC5 offers USB, RCA analog, S-video, and Firewire inputs. The burner will also work with standard definition camcorders. The VRD-MC5 records various formats including DVD, HDD, DV, and Digital8, connected by either RCA or Firewire. The unit does not accept HDV input streams. AVCHD camcorders can only be connected to the burner through the USB port."
The unit comes with a 2.5 inch LCD, navigation controls and a large burn button. "The burner allows for clips to be sorted and placed in a preferred order for burning on DVD+R/-R/+RW/-RW/+R DL discs. It also works as a still photo burner with card slots for MemoryStick Duo/PRO Duo, SD/SDHC, xD, and compact flash."
The burner has no video outputs so it cannot serve as a standalone home DVD player.
The unit has no video output, so it cannot be used a home DVD player. The burnt DVDs will still be in AVCHD format and therefore your playback device must be compatible with the format. Notably, the
PlayStation 3
is compatible among a select amount of players.
There has been no set US release date nor price. Updates when they become available.
Source:
Dailytech