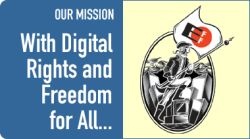 The
Electronic Frontier Foundation (EFF)
has begun criticizing
Apple
over its practice of embedding user information into its
DRM-free
purchased tracks from the
iTunes
store. The group feels that practice poses a security risk to its users.
Embedded within the files are the customer's name and email address, and the EFF claims that the data can be pose a privacy issue to many users. If, for example your
iPod
is stolen, the information can be uncovered rather easily by the theif. Although there is not sensitive data embedded, such as credit card numbers or phone numbers, the addition of DRM-free purchases makes it even easier for the information to get stolen.
Although Apple has never given a specific reason for the watermarks, most believe it is because they would like the ability to track files if they end up on P2P networks.

"Bottom line: DRM-free doesn't mean that Apple suddenly supports piracy,"
Erica Sadun wrote for The Unofficial Apple Weblog last week.
Source:
BetaNews