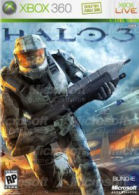 Today,
Microsoft
announced that it had concluded its multi-player beta of the upcoming
Halo 3
game and noted that it was a huge success which had attracted over 820,000 unique participants and 12 million hours of game play.
Microsoft is now turning its focus towards Halo-related merchandise by allowing pre-orders of accessories such as special edition controllers and headsets. There will also be a special edition Halo
Zune
and a Marvel comic series by September.
Microsoft and
Bungie
launched the beta last month and the strain on
XBL
was huge. Downloads of the beta equaled 350 terabytes of data.

"The participation in the 'Halo 3' beta was staggering,"
said Shane Kim, corporate vice president of Microsoft Game Studios.
"Witnessing such a great reaction to a small portion of the game has been inspiring."
Halo 3 will hit shelves on September 25th.
Source:
BetaNews