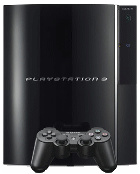 After reports surfaced that hackers had cracked the
PlayStation 3's
anti-piracy software,
Sony America
has declared that it will "aggressively pursue" anyone who is caught doing so. They have said the activity will merit legal action if caught.
"Unfortunately, hackers will try to exploit any hardware system software,"
SCEA spokesperson Dave Karraker said.


"The best we can do as a company is to make our security that much stronger and aggressively pursue legal action against anyone caught trying to use an exploit in an illegal manner."
According to CVG.com, hackers have cracked the PS3 firmwares 1.10 and 1.11, which allow the consoles with those firmwares to boot pirated games.
Although the games boot, so far hackers have not gotten any pirated games to actually play.
So far, despite diligent efforts, all consoles have been hacked but there are some repercussions besides legal action. Hackers run the risk of bricking their expensive consoles, as well as getting banned from the PlayStation Network.


"Naturally, any use of an exploit on the system software does void the warranty on the PS3 system... Which could be a costly mistake to see if you can run an old SEGA CD game on it,"
said Karraker.
Source:
GI.biz