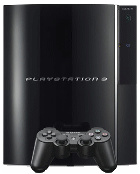 According to
Kotaku
and
DVD Talk
, it seems the
PlayStation 3
will be getting a much talked about but not anticipated price drop.
Members of
DVD Talk
acquired a flyer from the large retailer
Circuit City
which showed that beginning July 12th, the PS3 would be listed at $499.99 USD after a $100 "price break."
Although it is not completely known whether the sale price is specific to Circuit City, a merchandising manager for
Sony
supposedly confirmed that the price drop was coming on July 12th, with promotion beginning on July 15th.
Many now believe that Sony will officially announce the price drop at their
E3
press conference on July 11th.
The price drop has been rumored for a few months now, with heads of Sony fueling the rumors. Last month Sony president Ryoji Chubachi told the
Financial Times
"We are re-examining our [PS3] budgeting process in terms of pricing and volume. Sales assumptions change and the market is competitive. We are in the midst of revisiting our strategy for the PS3."
Sony CEO Howard Stringer also said this month that the company was looking to "refine" the price.
We will wait and see and keep you updated on any developments.
Source:
Dailytech