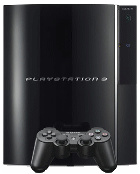 PSM France
has revealed some details on a
SIXAXIS
rumble controller for
Sony
's
PlayStation 3 (PS3)
console. One of the rumors that has been spread about such a controller is that it will feature
"Touch Sense"
, a superior vibrating system compared to older controller technology. The vibrations do not come just from the handles but from various areas of the lever.
Using the Touch Sense system, developers will be able to experiment with different effects for users during gameplay instead of the standard system used by the PS2. The effects will be more powerful and intense, and should provide a better gaming experience for the user. For example, firing a gun will prompt a fast jolt from the controller, and tearing around a race track will prompt the controller to vibrate in sync with the roughness of the road surface
Sony first admitted that it would consider changing the SIXAXIS controller for the PS3 in March this year after settling an ongoing dispute with
Immersion
.
Source:
Product-reviews.net