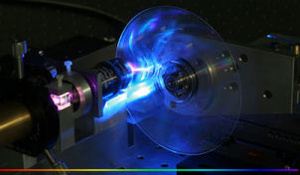 The University of Berlin, partnered with Budapest University of Technology and Economics and Universita Politecnica delle Marche in Italy, have worked out how to cram 500GB of data onto
Blu-ray
or
HD DVD
discs, saying that 1TB of data is the aim. The Microholas project created a microholographic recording technique that uses nanostructures inside the disc instead of on the surface.
Using this method, storage capacities can be achieved that make today's available storage by optical disc look pretty weak. A single layer Blu-ray disc can store 25GB of data and a dual layer
BD
disc holds 50GB. Single-layer and dual-layer HD DVD discs store 15GB and 30GB of data respectively.
The 500GB prototype contains 50 data-storage layers. Professor
Susanna Orlic
explained to German site
Pressetext
that applying wavelength multiplexing techniques to multi-layer disc structures, you can achieve very high densities. The goal of this high-storage media would not be to distribute movies or games, but would be more geared toward long-term data storage instead.
Source:
The Register