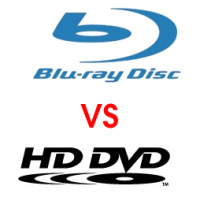 Walt Disney Studios Home Entertainment, Sony Pictures Home Entertainment and 20th Century Fox Home Entertainment are backing a new Web site aimed at steering high-definition consumers toward
Blu-ray
Disc.
While the name, Hollywood in Hi-Def, suggests that it would include information about both competing high definition disc formats, even a cursory examination clearly reveals a slant in favor of Blu-ray. Headlines reading "Yahoo!Tech Comments "Is Blu-ray Preparing a Death Blow for
HD-DVD
?"" and "Crave Comments Pie Charts Indicate Blu-ray Victory over HD
DVD
Assured" are featured prominently on the site's front page, with the page featuring just about as many blue elements as they could use without everything blending together.
Scott Hettrick, former editor-in-chief of Video Business magazine and current editor of Hollywood in Hi-Def, will reportedly have access to executives that otherwise might not comment.
According to Hettrick, "A lot of the companies that are supporting Blu-ray got together and decided to do something different and more credible than a promotional web site."
Source:
Video Business